One of the things we did while in Ladakh was stay in a traditional farm house. You can read more about our experience
here
but one of the many things I learnt while living with this wonderful family was to make Ladakhi thukpa. Most, if not all, of the ingredients used were grown in the family farm, right in front of the house. Water used for the thukpa broth came from the river that flows right through the house compoundand the dehydrated paneer was made from milk that came from their own cow. It will be hard to top Tundup's thukpa since my ingredients will never be as fresh but I'll be sure to try!
Cooking in Tundup's kitchen.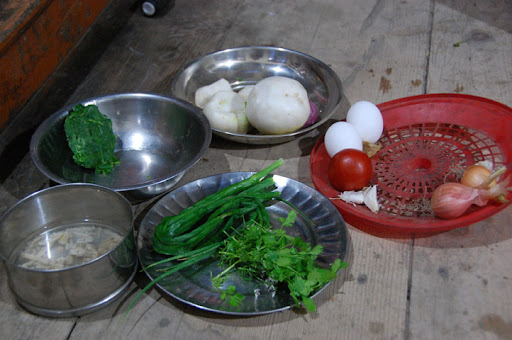 Ingredients from Tundup's farm
Ingredients
For the broth
3 medium tomatoes, chopped
4 medium radishes, chopped
1/2 cup spinach, blanched
3 small onions, chopped
5 big garlic cloves, chopped
4 sprigs of spring onion, chopped
1/2 cup cilantro
1 tablespoon black pepper
1/2 teaspoons cumin powder
1/2 teaspoons garam masala
1 teaspoon turmeric
4 tablespoon mustard oil
Salt to taste

For the Noodles
1 eggs for noodles
3 cups atta
About 1 cup water

Preparation
In a heavy skillet, heat mustard oil until hot and add onions and garlic and fry until fragrant. Stir in tomatoes and cook for a couple of minutes then add all the masala powders and pepper. Add spinach and radish and cook well for 10 about minutes. When radish is soft and spices are fragrant, add about 4 to 5 cups of water and bring to boil. Lower heat and let it cook while you make the noodles. Add chopped spring onions and cilantro right before serving.

Making thukpa noodles
On a big bowl, mix flour with egg and add a a few tablespoons of water at a time while kneading mixture into a dough. When thoroughly mixed, roll out dough like a chappati and then slice the flattened dough into long strips. Slowly add dough strips into boiling broth and cook covered at medium heat for about 20 minutes. Add salt to taste, or do what the locals do which is omitting the salt altogether and taste the natural sweetness of each and every ingredient used to make this delicious dish.
Dehydrated paneer
Making noodles
Cooking noodles in thukpa broth
My very first bowl of homemade Ladakhi thukpa